What to Read After You've Read Harry Potter
Entry 1: Fablehaven by Brandon Mull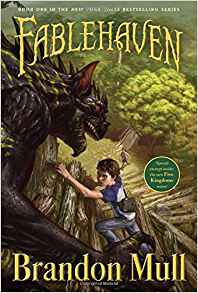 Genre: Fantasy
Goodreads score: 4.08 out of 5 (109,941 ratings)
Amazon score: 4.7 out of 5 (1,189 reviews)
Popularity: With the release of book 5, the series reached 4th place on the New York Times best selling children's series list.
Awards: Book 2 (Rise of the Evening Star) won the Whitney Award for Best Y/A Children's Novel in 2007.
In J. K. Rowling's Harry Potter series, wizards, witches, and fantastic beasts roam the Earth, unobserved by ordinary, non-magical Muggles. In Brandon Mull's Fablehaven, magical creatures reside in a single secluded sanctuary, watched over by a caretaker who ensures that the enchanted beings remain within its confines. Kendra and her little brother Seth are about to discover that their grandfather is the caretaker of this mythical realm. But as the plucky pair puzzles out the path to Fablehaven, they find that all is not sparkles and fairy dust. Fablehaven has rules, and breaking any of them could jeopardize Kendra and Seth's lives—and even the safety of the world.
Harry Potter motivated a generation of kids (and adults) to tear their eyes away from TV and computer screens (if only momentarily), and Fablehaven is another gateway into the wondrous world of the written word. Amazon user Jenny B used Mull's book for her students' literary circle with superb results: "The kids were so enthralled with the book that over half, including the 'reluctant' readers, began reading ahead. After the group finished the books, ALL of the children continued the series on their own and say the next books in the series are also great."
Carolyn Wang, IYE student since 2011, also has high praise for the series, saying, "Fablehaven, by Brandon Mull, is one of my favorite fantasy series of all time; it has incredibly good world-building, creative and intriguing characters, and a fast-paced plot that keeps the action coming."
No book is universally lauded, however, and certain aspects of Fablehaven may not appeal to all readers. Some readers, for example, cannot stand the characterization of Kendra and Seth. One Goodreads user finds the two protagonists exasperating, accusing them of spinelessness and buffoonery. Other readers say that Kendra and Seth mature as the series progresses, creating satisfying and believable character arcs—though one reader does say that Kendra is reduced to a damsel-in-distress near the end of the series.
Amazon user LitWit, however, views Mull's characterization as nuanced and complex: "The children in the story, Seth and Kendra, are akin to realistic children.… They are also always aware of the consequences of their decisions and there are many times in the story where the children, as well as the other characters, have to pay the piper for their choices."
Juxtaposing the mundane and the fantastic often highlights the wondrous aspects of a fantasy tale while also suggesting that maybe—just maybe—a magical world exists just around the corner from us. Harry Potter dangled that intriguing prospect in front of millions, and readers shouldn't be surprised if Fablehaven also hooks them into its captivating realm.