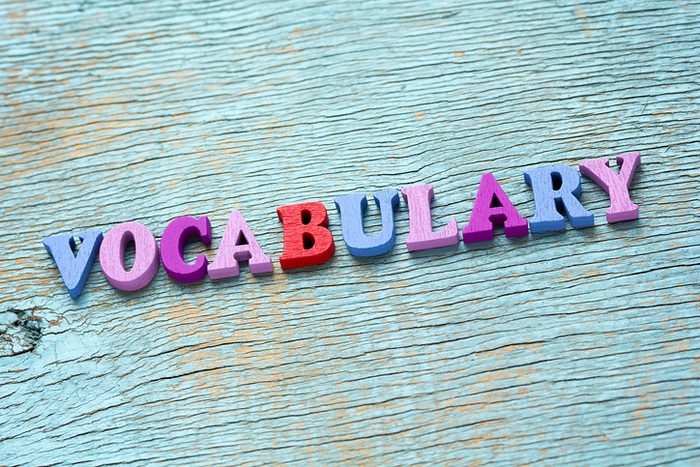 At Improve Your English, what does a year's worth of vocab look like?
For one of our seventh-graders, last year, it looked like this. Between June 2015 and June 2016, the student learned and was tested on these 492 words (many of them with multiple definitions). They were all taken from her weekly reading.
Try taking the challenge: how many of these words do you know? How many does your 8th-grader (or 11th-grader) know?
I'll see you at the bottom of the page.
traversed by
reputed
intricate
headlong
cascade
decorum
abundant
myriad
meek
placid
patriarchal
proverb
bid
parlor
everyday
unaccountable
perforce
spry
disposition
qualm
latter
uncanny
profound
sundry
ungainly
sidle
presently
vivacity
discerning
eccentric
rapturous
rapt
reverie
ethereal
elusive
waver
clad in
ruminate
spire
wistful
relapse
waif
revelation
luminous
rove
deprecate
unromantic
reconcile
matron
reproach
I'll warrant you
emphatic
stipulate
gad about
unsettle
tart
repentant
dire
ecstasy
mirth
albeit
render
remorse
contortions
laudable
tableau
conscientious
gaily
cogitate
ingratiating
humdrum
to take precedence
novelty
besetting sin
complacent
coronet
dubious
turbulent
peerless
imposing
epoch
exult
divine (v)
token
don (doff)
abominable
prima donna
prosaic
prose
dissipate
implore
chasten
fervent
conjugation
languish
indifference
sibilant
presumptuous
sheen
luster
connive
vagrant
ballad
confer
bestow
resign
gaunt
stolid
civility
acute
scrutinize
bumpkin
languid
propitious
subtle
tremor
partake
decamp
ample
preposterous
appalled
speculate
pinnacle
provincial
maritime
attain
competent
domestic
preeminent
insupportable
vista
cessation
heed
pommel
invariably
glade
apprehend
pungent
naught
aught
(v) essay
skirt
aperture
maddening
persist
perception
tarnish
verdigris
reconnoiter
fusillade
shirk
oblivion
spasmodic
belligerent
bestial
perilous
adamant
hark back to
sententious
legerdemain
apostate
solicitous
ineradicable
brawl
maim
animus
bout
testify
rally
imperceptible
abate
pall
undulate
conjecture
jowls
appendage
reiterate
devise
gingerly
singe
whence
intimacy
iota
vindictive
prevalent
marrow
glutton
circumvent
impartial
brash
courier
maroon
sahib
tyrannical
veranda
bungalow
contrary
presently
craven
sallow
straggle
tapestry
novelty
buffet
torrent
bosom
resent
perplex
romp
brocade
inlaid
tapestry
palanquin
dialect
accord
pert
coax
impudence
heathen
alcove
urn
rent
dictate
civil
lest
parson
rheumatism
flout
obstinate
reverent
exultant
rajah
nigh
in his stead
rook
rapture
meddle
doleful
condescend
indignation
invalid (n)
hysterics
hearken
bough
wiry
affectation
frank
implore
indulgence
unscrupulous
shrewd
recluse
austere
excursion
notwithstanding
hitherto
menagerie
consort
morbid
ere
harangue
lath
wraith
testy
bray
obstinate
impartial
sheaf
gaily
ferret
imposing
earnest
snub
bounteous
copious
draught
disdain
tinge
reproach
derive
indulgent
maroon
buccaneer
cooper
plod
livid (2 defs)
rap
connoisseur
berth
trundle
diabolical
fancy (v) (2 defs)
rebuff
hawker
hamlet
ruffian
magistrate
rout
suffice
gale
indignation
tallow
leer
fawn over
mutilated
fugitive
trebly
sinewy
gallows
haven
swoon
repent
confidences
flighty
tattered
vise
sober
nimble
apoplexy
inclined
whence
whither
consent
hulking
miscellany
quadrant
disperse
shirk
pew
skulk
irresolute
miscreant
wrest
spurn (2 defs)
ambush
dispatch
bluff (2 defs)
stately
condescend (2 defs)
atrocious
prodigious
dexterity
sheepish
broach (2 defs)
peal
mirth
anecdote
ticklish
mutiny
on the contrary
intolerable
figurehead
flit
wily
confidant
providence
viceroy
chaplain
quartermaster
christen
earnest (2 defs)
congregate
conical
duplicity
durst
pretense
countenance
becalmed
qualm
melancholy
dreary
warp
ebb
stockade
stagnant
outstrip
tiff
sulk
disaffected
tract
undulate
acquiesce
dogged
serviceable
reverent
divinity (2 defs)
genteel
skirt (v)
eddy (n)
placid
cavalier (2 defs)
girdle
resin
bough
impending
in a trice
sally forth
recommence
apoplectic
grievous
girt
spar (n)
hull
divine (v)
tipsy
ditty
innumerable
incessant
welter
skiff
phosphorescent
bulwark
desist
ungainly
comeliness
anchorage
meddle
truant
palisade
refrain
recoil
irreparable
conspirator
belay
contemptuous
grievance
apprehension
bungle
insolent
vehement
gibbet
ague
cur
sentinel
environed
parole
insubordinate
arrant
slough (1 def)
rudiments of something
preponderant
voluble
How did you do? 😉
This student didn't just see them and forget them either; she consistently scored 100% on her weekly and her cumulative vocabulary quizzes. Moreover, each word was new to her because each was individually selected based on a pretest.
Are there some repetitions? Of course; every student has to learn some words several times. Will she have forgotten some? Of course, and for the same reason. But learning the word will be easier the second time.
Now this young woman can look forward to reading and understanding a book by Austen, Twain, or Shakespeare. Those are the texts assigned in AP English and in college literature courses.
Imagine how much easier it would be for your child to read–if she only knew all these words.
Contact us today for a free evaluation and a free trial lesson.